The LEOGANT upgrade for Quooker systems.
Everything else is just hot water.
This faucet can do everything and with us even more. The functionality of Quooker combined with the water quality of LEOGANT. The luxury version for home or small offices.

Filtered, vital LEOGANT water now in your favorite way. Our customized filter concept completes the product quality and design of the Quooker systems. From boiling to chilled, still or sparkling - always a water experience like in the mountains. A difference you can feel and taste.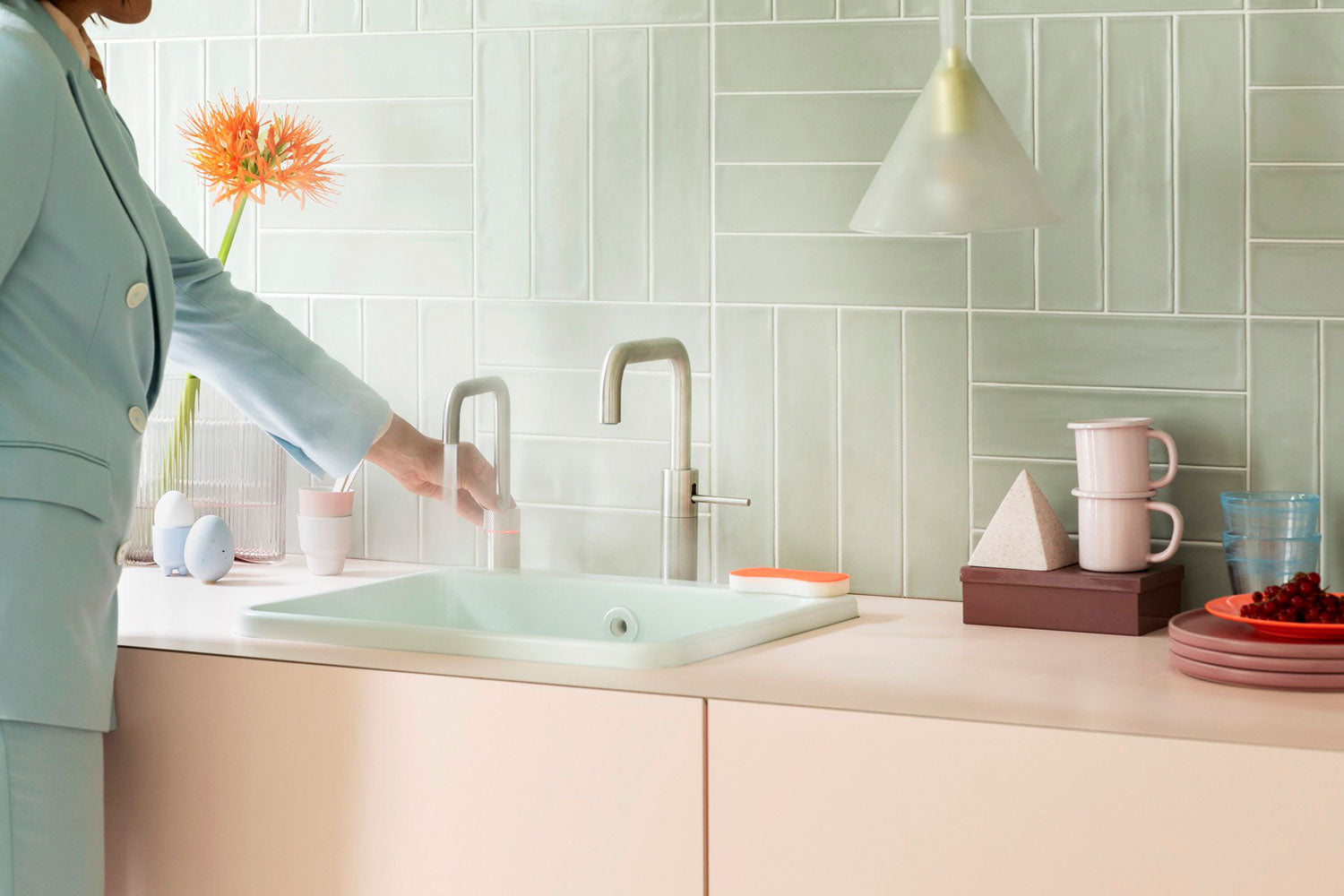 "Boiling, cool, sparkling or still. The most versatile possibilities - and all with living water. We make clever combinations possible."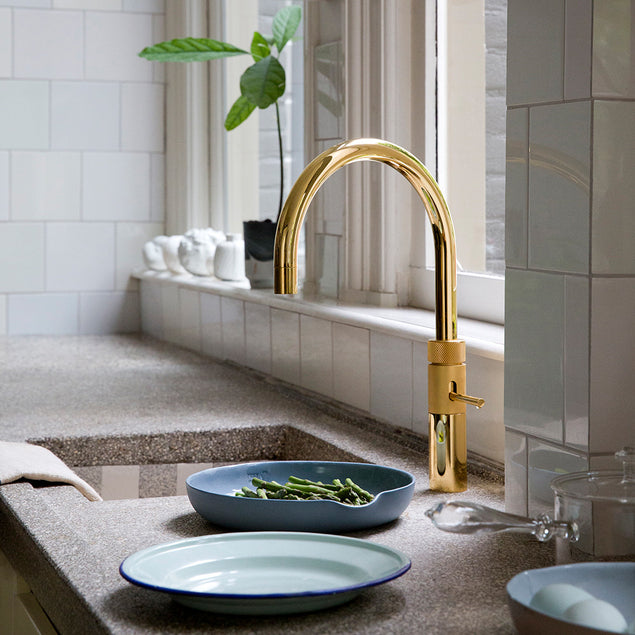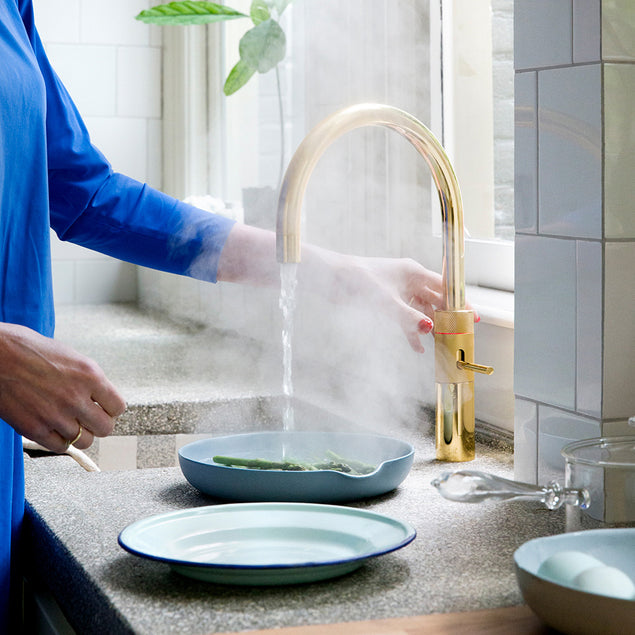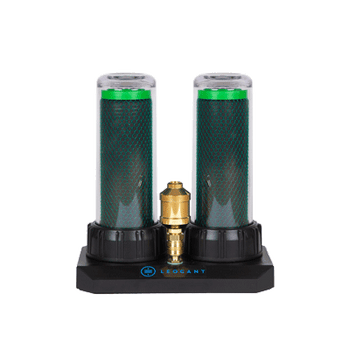 DUO
DUO activated carbon filter with Pure Gold vitalisation. Special cartridge with 0.6μm and approx. 5-6 litres flow/minute.

UMH Pure Gold made of 340g brass 24kt. gold plated.
1 rock crystal and 7 frequency fields in a vortex chamber.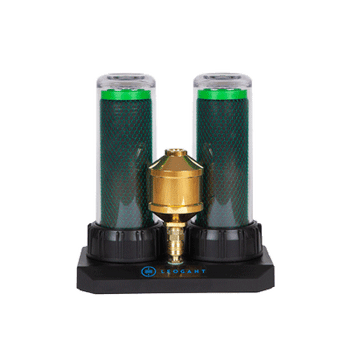 DUO Gold
DUO activated carbon filter with Master Gold vitalisation.
Special cartridge with 0.6μm and approx. 5-6 litres flow/minute.

UMH Master Gold made of 2.4kg brass 24kt. gold plated.
10 gemstones and 10 frequency fields in 10 individual
vortex chambers for extra soft water.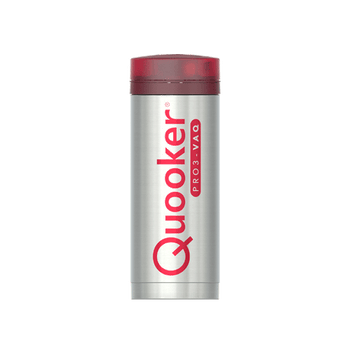 PRO 3
The PRO3 reservoir instantly delivers 3 litres of boiling water at the touch of a button. Can be used if a hot water connection is available.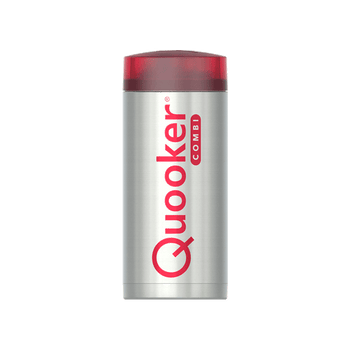 COMBI
The COMBI reservoir immediately supplies 7 litres of boiling water or 15 litres of warm water (60° C). The clever alternative to a conventional boiler or instantaneous water heater.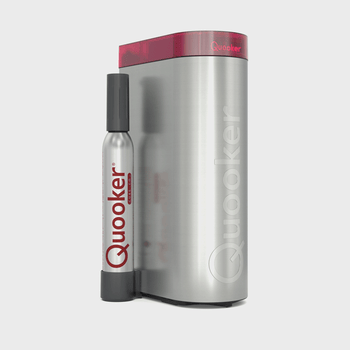 CUBE
The Cube is the addition of cool and sparkling water to the Quooker. Can not be used independently.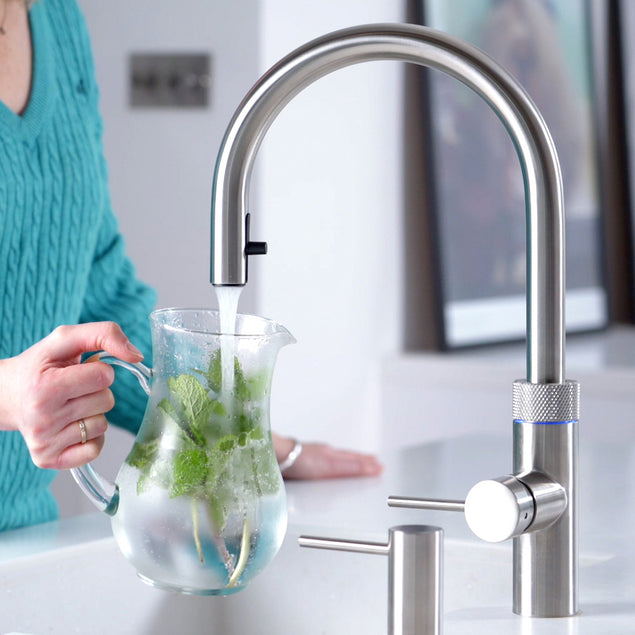 "We find the hottest innovations in water technology. Boiling water straight from a gold faucet. Chic, practical, a real treat."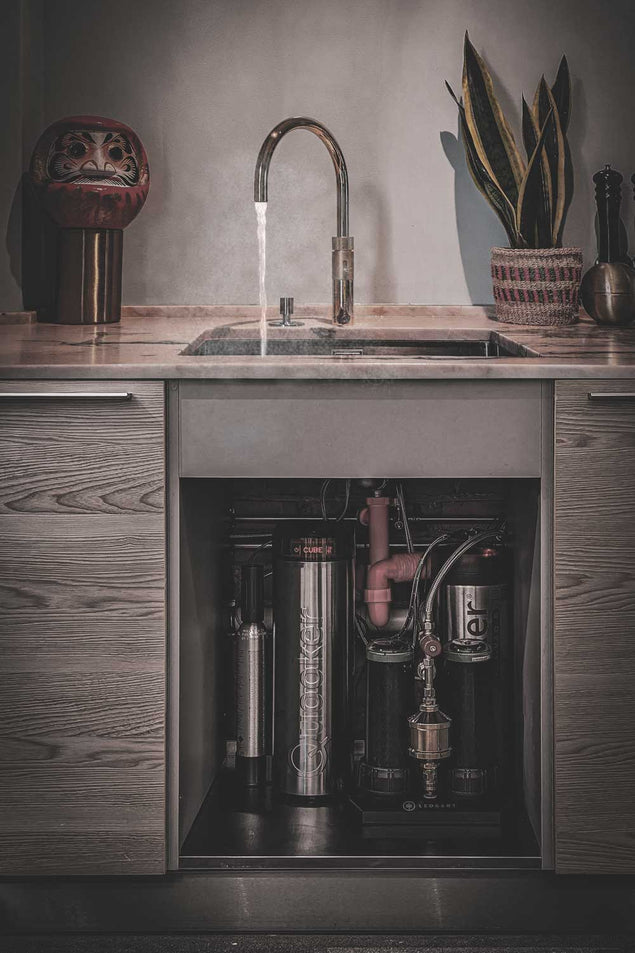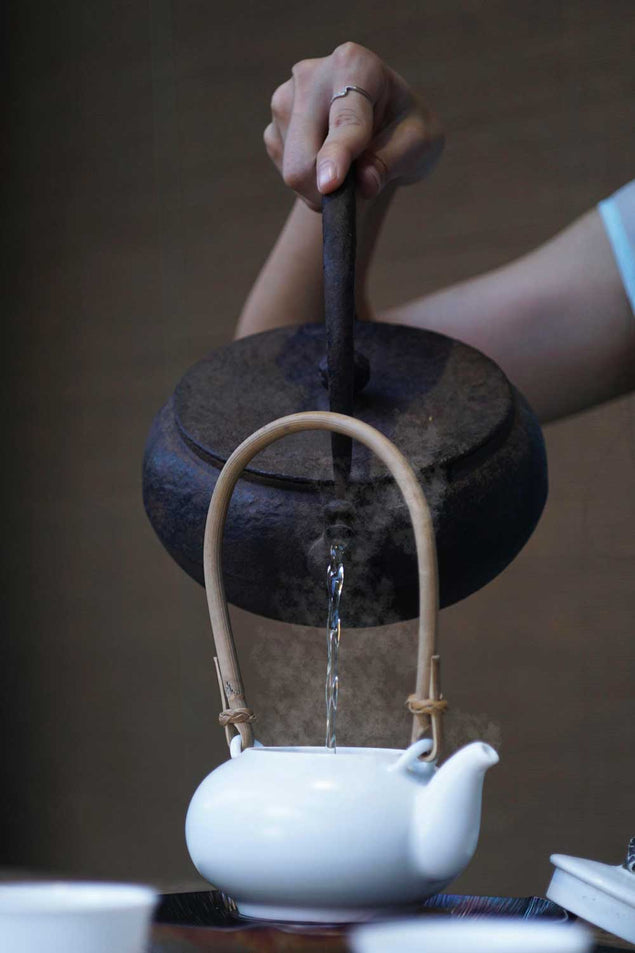 Product details
Reservoir:

Pro 3

Combi

Cube

100°C:

3 litres

7 litres

-/-

60°C:

-/-

15 litres

-/-

40°C:

-/-

27 litres

-/-

Cooled water°C:

-/-

-/-

2,4L

Sparkling water°C:

-/-

-/-

2 litres

Height reservoir:

44 cm

47 cm

50 cm

Diameter reservoir:

15 cm

20 cm

-/-

Width reservoir:

-/-

-/-

223 mm, 153 mm excl. CO₂ cylinder

Depth reservoir:

-/-

-/-

340 mm, 270 mm excl. CO₂ cylinder

Heating time:

10 minutes

20 minutes

-/-

Voltage:

230 V

230 V

230 V

Power:

1.600 W

2.200 W

100 W

Consumption in idle mode:

10 W

10 W

5 W

Energy efficiency class:

-/-

A

-/-

Cartridge

2 pieces GFP Premium-D

Fineness:

0.6 µm

Security:

Bacteria-safe

Flow:

4.8 - 5.9 litres per minute (depending on water pressure)

Life cycle:

6 months (DIN EN 806)

Capacity:

20.000 litres

Consequential costs:

49,- Euro per cartridge; 196,- Euro per year

Vitalisation:

UMH Pure Gold

UMH Master Gold

Material:

brass 24 ct. gold plated

brass 24 ct. gold plated

Gems:

1

10

Swirl chambers:

1

10

Scope of delivery:

DUO filter housing
4 pieces GFP Premium
Quooker reservoir incl. faucet (selected options)
UMH Vitalisation
Connection material and hoses
Electronic Aqua Stop
Disinfection spray
Glass bail bottle
BPA-free drinking bottle
Note on filter change according to DIN EN 806
We would like to point out that a filter change every six months is a prerequisite for the functionality and hygiene of the system. If the filter change is not carried out or is not carried out professionally, LEOGANT cannot guarantee the functionality of the water treatment system. The operator himself is liable for any contamination according to DIN EN 806/ DIN EN 1717.
FAQ
Does a LEOGANT system also filter hormones, drugs and microplastics?

What is the difference to a normal Quooker system?

The Quooker systems are, in our opinion, the highest quality systems for private homes to get boiling, cool or sparkling water at the touch of a button. The Quooker systems consist of the respective reservoirs and a tap. A water treatment technology as offered by us is not included with Quooker. It is the pure technique to heat or carbonate water. We complement the Quooker systems with a premium activated carbon filter and a vitalisation. So the water is not only boiling or sparkling, but tastes like fresh from the spring - LEOGANT water quality from the Quooker at the touch of a button.

Why can't I just choose sparkling water as an option?

Quooker is derived from cooking. The founder of the company Quooker was a pioneer in hot water preparation. Therefore the central function at Quooker is the boiling water function. Sparkling water can only be selected as an additional option and not individually.

Isn't it unhygienic to draw the filtered water and normal service water from one tap?

Generally yes, but since the Quooker uses 100°C hot water coming out of the faucet, the faucet disinfects itself every time the boiling water function is used. Therefore we find the combination of a Quooker system with a LEOGANT filter system not only comfortable but also hygienically very safe.

How much space do I need for a BUCCA system?

Depending on the model, you will need half a kitchen base unit (30 x 60 cm) or a complete base if the sparkling water function is included (60 x 60 cm).

Can I combine my existing Quooker system with a BUCCA?

Yes, select the option "I already have a Quooker" and tell us in the next step which system you have. This way we can send you the appropriate installation instructions and configure the LEOGANT Quooker upgrade accordingly.

Can I install my BUCCA system myself?

We deliver everything ready for installation and send you a digital installation guide. Basically, the installation is not very difficult, but requires some technical intuition. For hygienic reasons, we recommend that the installation be carried out by a professional, so you can be sure that everything is installed correctly and that there are no leaks later on.

Do you also offer an installation service?

Yes, we offer a paid installation service throughout Germany through our cooperating service partners. Please note that we need photos of your kitchen unit before installation to be able to estimate the installation. If you are unsure whether it is possible to install the service at your location, please send us an email and we will clarify this together. Installation dates have a lead time of about 2 - 3 weeks.
Free shipping
We ship CO2-neutral and free of shipping costs within Germany.

Need help
You need help with the decision?

Chat with us.
Filter Service
Never forget maintenance with our reminder service and automatic dispatch of your replacement cartridges.