Manual vitalisation for hexagonal water on therapeutic level.
The UMH floor-standing units were developed especially for therapeutic use. The pyramid-shaped structure enables highly effective multiple energisation of tap and bottled water and other beverages. Depending on the frequency of use, an individual energy level is achieved. The device is made of brass, 24 carat hard gold plated and equipped with a special gemstone composition. In addition, a hyperbolic flow cycle and handmade vials inside the device ensure a highly stable energy field.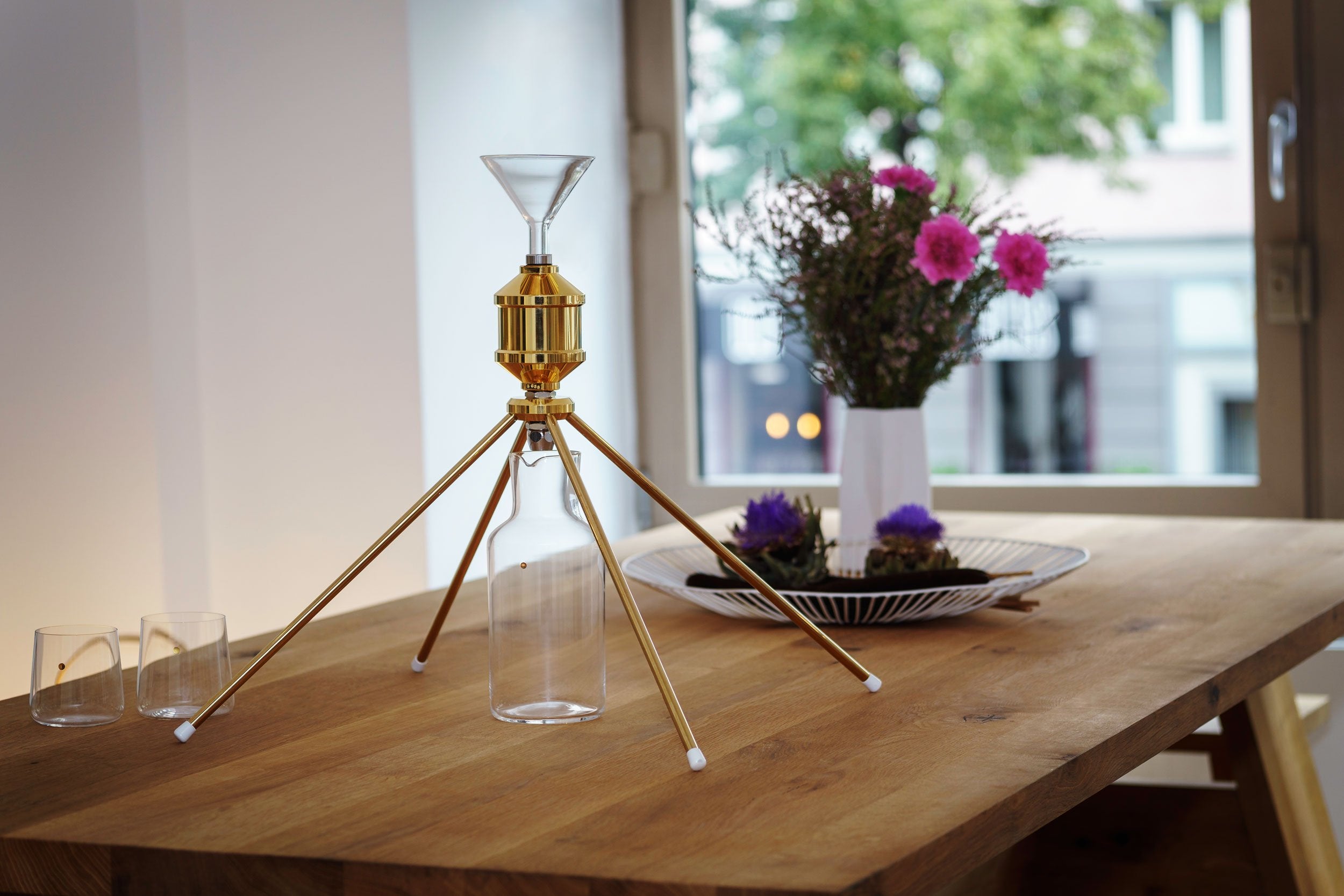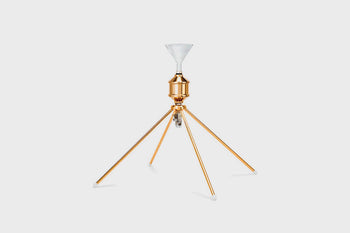 UMH DELTA
Brass, 24 carat gold plated and with a gemstone composition more advanced than the normal Master Series. In addition, a hyperbolic flow cycle and handcrafted vials inside the instrument provide a highly stable energy field.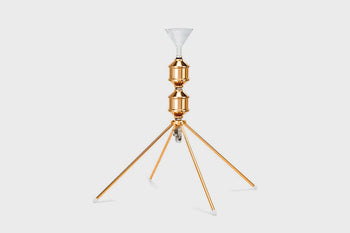 UMH OMEGA
Brass, 24 carat gold plated. Combination of UMH Master and UV on a pyramid stand. Energy field corresponds to that of the UMH diamond. Four additional gemstones and vortex chambers compared to the UMH Delta. In addition, a hyperbolic flow cycle and handmade vials inside the device ensure a highly stable energy field.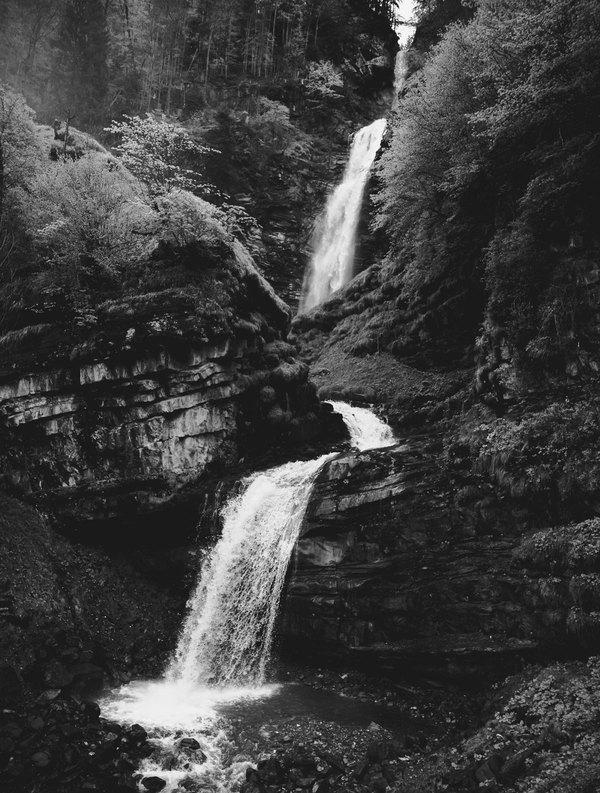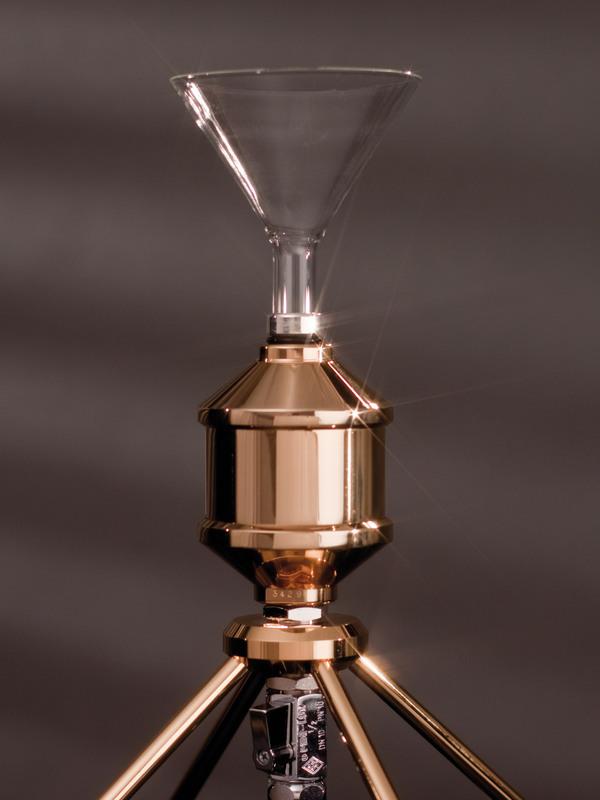 "Delta and Omega. Energising at cellular level. Hexagonal. Transportability, nutrient uptake, metabolism. Or simply: noticeably smooth, refreshing taste, absolutely delicious."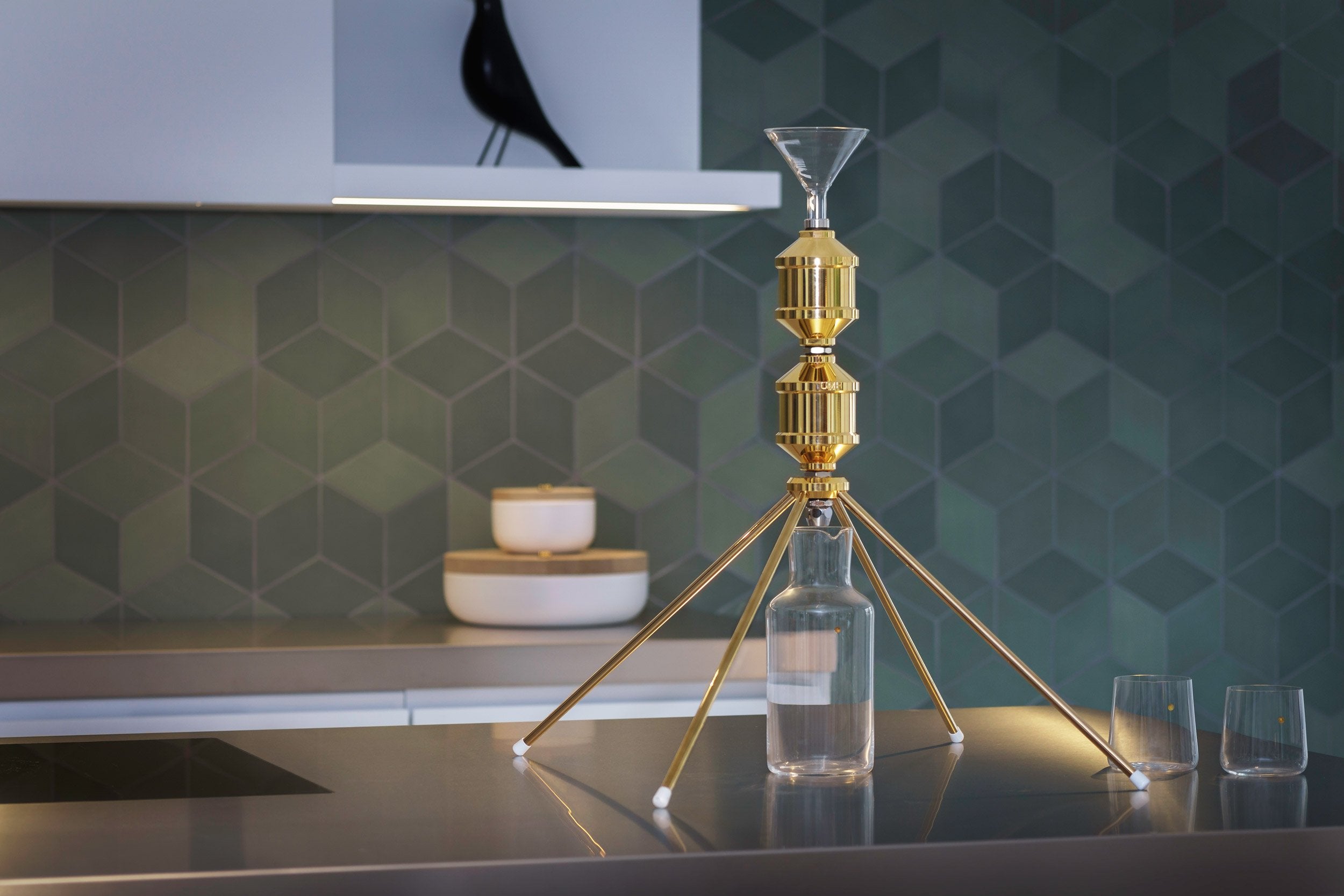 Product details
Delta

Omega

Height in cm:

49

61

Footprint in cm:

50 x 50

50 x 50

Weight in kg:

3,8

5,6

Material:

Brass

Brass

Surface:

24 ct. gold plated

24 ct. gold plated

Gems:

16

20

Swirl chamber:

16

20

Maintenance-free:

Yes

Yes

Scope of delivery:

Device with stand and glass funnel
FAQ
Can I produce so-called "hexagonal water" with the UMH floor-mounted unit?

Yes. All the UMH devices do that. With the floor units, the crystalline phase of the water is simply stronger. Especially the frequency fields in water have a higher information density.

How often can I energise the water with the device?

In theory, you can repeat the process as often as you like. However, the energy level cannot be increased infinitely, but approaches a limit value depending on the input quality. We recommend not to energise the water more than 3 times, otherwise the energy in the water might be too high and cause headaches.

Can I pass any liquid through the device?

We do not recommend passing any liquids through the appliance that could clog it (high fat content, pulp). For all liquids except water, it is essential to rinse the unit several times with warm water to remove deposits and prevent contamination and unpleasant odours in the unit.

Can I also energise hot drinks?

Yes. You can put drinks through the device up to 98°C. Just make sure that you don't switch between cold and hot too quickly, otherwise the glass vials inside can burst. However, we recommend to energise water first and then heat it up.

Do UMH floor-standing units have to be serviced at some point?

All UMH devices are basically maintenance-free and have no time limit. Since the floor-standing units are not permanently installed in the pipe and are open, we recommend that lukewarm water with a little ecological detergent be passed through several times a month or after use with liquids other than water to remove deposits. If necessary, you can occasionally clean the outside of the devices with a soft cloth if minerals or water stains have settled. In this way, the appliances will still look flawless even after years of use. This does not affect the effect. Do not use chemicals, acids or sharp objects to damage the units or the gold plating.

What can influence the effect of UMH devices?

Devices and systems that work with frequencies are generally sensitive to electromagnetic fields. For this reason, UMH floor-standing units should be positioned at a minimum distance of 1.5 m from strong electromagnetic fields (power lines/ WLAN routers/induction cookers/heating pumps/washing machines). A distance of approx. 30 cm is sufficient from normal power lines and earthed sockets.

Which gemstones are in the UMH device?

The central gemstone in all UMH devices is a rock crystal (SiO2) with its natural frequency. The other gemstones are a special composition which vary depending on the series and size of the device. From a number of 10 swirl chambers upwards there are also individual EM ceramic elements in the devices.

How high is the lead content in the brass used in UMH devices?

According to DIN 50930-6, elements with a lead value of max. 3% are suitable for drinking water. The limit for the designation "lead-free" is 0.2%. Only gunmetal with a lead content of 0.15% is used in the production of UMH devices. This enables us to meet the highest standards.

Do you offer a guarantee on the UMH devices?

Yes, you have both a 4-week satisfaction guarantee and a 5-year function guarantee on all UMH devices.
Free shipping
We ship CO2-neutral and free of shipping costs within Germany.

Need help
You need help with the decision?

Chat with us.
Filter Service
Never forget maintenance with our reminder service and automatic dispatch of your replacement cartridges.